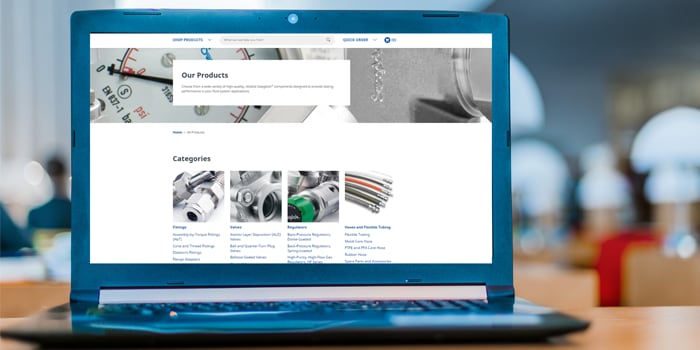 A New Way to Shop Swagelok Products
We are excited to announce that Swagelok has launched a new eCommerce site for enhanced online purchasing. In this first release of our site, you will find detailed product information and related resources such as catalogs, CAD files, blog articles, product selector tools, and reference guides. Discover unfamiliar, yet relevant products and services through improved filtering capabilities, updated search technology, and similar product suggestions. We are excited to build and expand on functionality, and hope you are open to sharing your experience with us.
Frequently Asked Questions
How do I log in?
Use the email address you originally registered your account with. You no longer need a username. If you do not have an account, click the Register button.
Can I upload a spreadsheet with part numbers and quantities?
Yes! You can upload your spreadsheet from the Quick Order feature or download the available template and enter in your information.
Can I share a cart with colleagues?
From your cart, click on the envelope icon in the right hand corner and email all items in your cart.
I can't find a part number that I know exists. How do I add it to my cart?
Enter the part number and quantity into the Quick Order form and Add To Cart. The part number will come across to our Customer Service team for validation via quote submission.