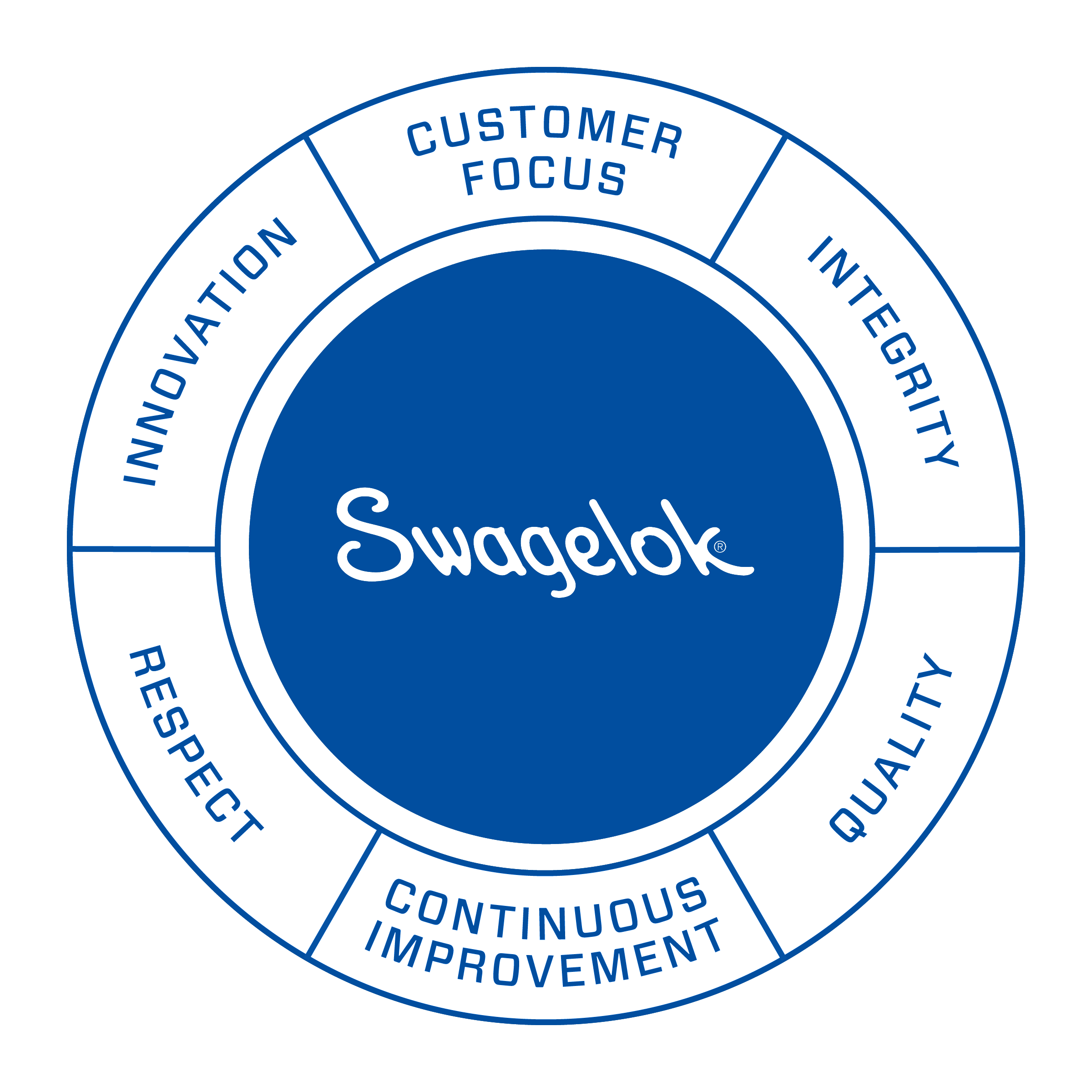 A Vision for the Long Term
Since 1947, we have been a values-based company committed to doing the right thing in all cases.
Throughout our history, our core values have defined us, and they are still the driving force behind every decision we make and every action we take.
Customer Focus: Create Value for the Customer to Create Value for Swagelok
Swagelok and authorized sales and service centers work together to help customers achieve their goals—for safety, reliability, efficiency, sustainability, growth, and more. Regularly stocked products are readily available throughout the world, and technical experts are on hand to collaborate on specially designed solutions, on-site evaluations, and training. And we look forward to exploring many more horizons with customers in the future!
Integrity: Choose to Do the Right Thing with Courage and Character
Integrity is at the heart of Swagelok. Our founder Fred Lennon set the standard, and today's associates continue to be inspired to do the right thing. We understand that each of our decisions impacts more than just our organization. Operating with a holistic, long-term view, Swagelok has the freedom to invest in our business in ways that benefit our customers, our communities, and each other—regardless of the economic climate.
Quality: Provide High Value and High Performance in Our Products, Processes, and Services
Quality is built into our products, every step of the way. Through rigorous raw material requirements and proprietary precision tooling, we ensure and protect the most critical product features. Throughout the organization, our passion for excellence has created a culture of quality that extends to authorized Swagelok sales and service centers. We are proud to provide high-quality products and experiences anywhere in the world.
Continuous Improvement: Systematically and Consistently Do Things Better
Our passion for continuous improvement inspires flexibility. We are always open to new ways of performing more efficiently and developing better solutions for customers. Over the years, even our flagship product—the Swagelok® tube fitting—has benefited from ongoing improvements, including changes to ferrule geometry and metallurgy. As application requirements have changed, we have adjusted our products to meet these demands.
Respect for the Individual: Commit to the Success of Each Associate Through an Environment Where People Are Trusted, Respected, and Treated Fairly
Our founder Fred Lennon created a culture of respect, where associates—never "employees"—feel a sense of connection and pride. Our people-focused culture is evident in our Total Rewards benefits for all associates; open-door policy; no-layoff philosophy; focus on safety; and commitment to diversity, equity, and inclusion. We are committed to nurturing an environment where all associates feel welcome, supported, and valued. That's why our associates have tenures of 10, 20, 30, and even 40 years.
Innovation: Challenge Conventional Wisdom to Create New Value for the Customer
Swagelok was first to market with a leak-tight, two-ferrule tube fitting that helped define the fluid system industry. And our unique business model was a game-changer, too; a network of authorized sales and service centers, focused solely on Swagelok's product line, supports customers with local inventory and expert support. Today, Swagelok holds more than 225 active patents, and as the pace of change continues to accelerate, we are collaborating with customers to bring new products and services to the marketplace.