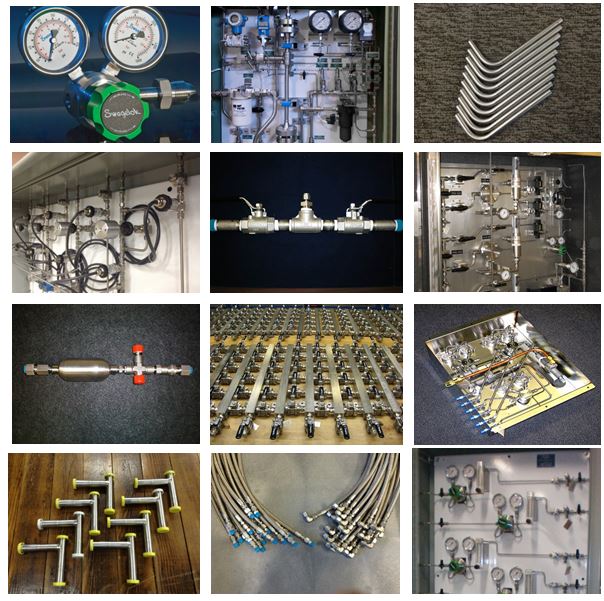 Bringing Your Ideas to Life
Swagelok Custom Solutions is your single stop for fluid systems expertise. On the front end we are here to help with specification, layout, optimization and engineering support. Then our expert, Swagelok Certified Technicians will create the assembly and perform final testing and validation of your project. You have the knowledge and ability to take care of your fabrication and assembly needs, but does it make sense for you to take on certain projects by yourself?
How can Custom Solutions help your business?
Sometimes, you might only need us to build a small piece of your project. Other times, it might make sense to outsource the entire job. We approach the process with flexibility and precision - from initial concept, through P&ID, to a plug and play solution that will not fail.
Why consider Custom Solutions?
We've got experience, technology, state-of-the-art equipment, and certified personnel to get the job done right - the first time, every time.
Mechanical and Electrical Engineers on staff to assist in layout and system designs
3D CAD modeling via Solidworks
7,000 square foot fabrication shop
Swagelok Certified Technicians
Swagelok Quality System (ISO 9001 compatible)
Our local fabrication capabilities include:
High-volume Tube Bending and Coiling
Orbital Welding
Enclosure Fabrication
Panel Fabrication
Hose Fabrication
Automated Valve Solutions
You trust our components; now trust us to build a fluid system assembly that is tailored to meet the needs of your application. Whether you have a preliminary drawing or a simple idea, it's never too early to consult with our experts. Let us work with you to optimize your design, create the CAD, build it and warranty it.
For more information, watch the video below to see how we can partner with you on your next project or download our Custom Solutions Brochure.
Interested in learning more about our capabilities? Contact us today.